This beautifully moist banana bread was created as a selfish manoeuvre on my behalf.  Due to my sensitivities to a number of foods, I am a much happier and more energetic human-being when I stay clear of gluten, dairy, and eggs.  Now, baking cakes or deserts can be quite the challenge when eggs, dairy and gluten are off the menu.
Sunday mornings I love to bake something nurturing as it is my designated lazy morning of the week when I do little in the morning except create recipes and potter around home in my comfortable clothes, listening to the calmest of music.  I adore my Sunday mornings.  Being in this calm space, I find that creative thinking flows far more easily, and it is in this space that most of the recipes on my website are born.
Due to the plethora of ingredients that are now available to us, baking is readily accessible to those of us who need to be a little more careful with what we eat.
Many gastrointestinal issues that go undiagnosed can be caused or worsened by food sensitivities, so it is important to be adventurous with your cooking and fortunately there are also many cafes that offer some fabulous choices these days.
With so many of my clients sharing similar food sensitivities to what I have, this delicious banana bread is for you.
Made from Tapioca flour, almond flour, and cassava flour, I have sweetened this bread with natural bananas, organic maple syrup and a little coconut sugar. I find this recipe really hits the spot when a sweet, decadent, and super moist treat is on your radar without each serve containing an overwhelming amount of processed sugar.
In every dish I make, I ensure that there is a good quality protein in it and this recipe is no different. When adding good quality proteins and fats you can strategically change a high GI food to a lower GI food meaning that your blood sugar levels are more balanced and energy levels are sustained without big energy slumps. High carbohydrate, high sugar meals are always followed by energy slumps, so I avoid this for myself and my clients at all costs.
My protein today is almond meal and hazelnut butter. I adore hazelnut butter. It always delivers that Ferrero Rocher kind of taste I find without the dairy and gluten. Nuts are a wonderful source of both protein and good fats, so they hit the mark on both fronts and is one of the reasons I call them a superstar food choice.
When you first read the ingredients in this recipe you may never have cooked with cassava and tapioca flours. Cassava flour really adds a lovely chew to baking and helps hold things together when eggs are not in the recipe which is why I like it so much. So many organic online companies in Australia makes these products so accessible so give them a try.
Cassava flour is not a grain but is from Yuca which is the root of the Cassava plant. It is a traditional staple in Africa and South America and is also a wonderful prebiotic meaning that your friendly gut bacteria feed on it and it makes them very happy indeed. When they are fed well, they give back to you in return with buckets of health benefits.
Tapioca flour also comes from the root of the cassava plant. Whilst cassava flour involves the whole root, tapioca flour is almost pure starch and made up of the starchy section of the plant.
Both flours are easy to digest and gentle on digestion which is another reason I enjoy using them in my recipes.
If you are able to refrain from devouring this delicious banana bread this recipe, it happily keeps in the fridge for 5-7 days and I often warm it up in my sandwich press. It also freezes beautifully.
I mix this recipe by hand as I am an early riser and like to let my family sleep in. Whether you use a mixer or mix by hand, it still comes out deliciously moist. I use activated pecan nuts in this recipe however its yummy with dark chocolate pieces, blueberries, or other simple ingredients so once you have the basics right, do a little creative experimenting and make it your own. The same goes for the nut butter. Any nut butter works here including peanut butter and even tahini is a lovely alternative.
You can also use this mix to make muffins instead of a cake tin and it makes around 8 depending on the size of your muffin tray. Approximately 30 minutes baking time is needed if this is what you decide.
Ingredients
½ cup hazelnut butter
¼ cup organic maple syrup
1 tablespoon coconut sugar
3 tablespoons coconut oil
2 ripe mashed bananas
2 tablespoons unsweetened almond or macadamia milk
1 teaspoon of gluten free vanilla extract
6 tablespoons organic almond flour
2 tablespoons tapioca flour
6 tablespoons cassava flour
¾ teaspoon baking powder
1/3 teaspoon baking soda
100 grams of pecan nut pieces
1 extra banana sliced in 4 for the top of the loaf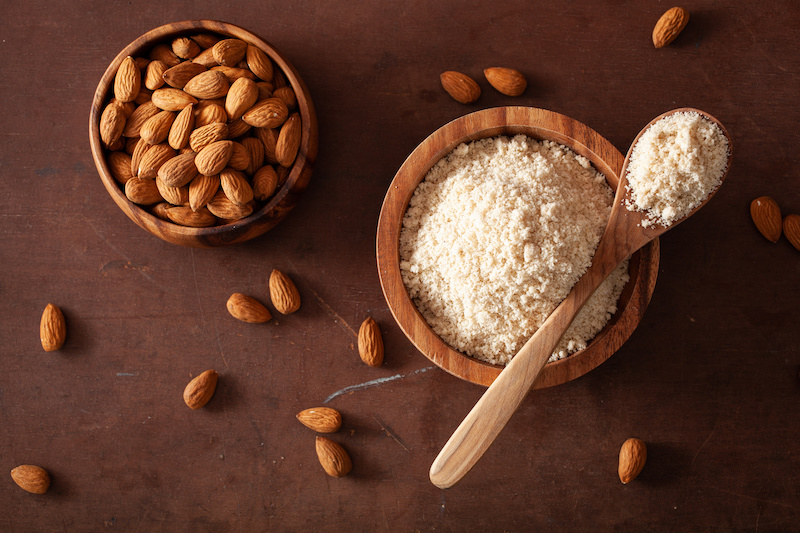 Instructions
Preheat your oven to 175ºC. Lightly grease a 23 x 12 cm cake tin with coconut oil and then line with baking paper so it sticks to the tin.
Mix the coconut oil, hazelnut butter, maple syrup and coconut sugar in a large bowl until smooth and then add your mashed banana, nut milk and vanilla extract.
Slowly stir through the almond flour, tapioca & cassava flours, baking soda and baking powder.
Now stir through the pecan pieces and pour your batter into the cake tin.
Even out and add the sliced banana to the top.
Cook for 50 minutes to 1 hour and insert a wooden skewer into the centre. If it comes out clean, remove from oven and let cool.
Remove from the cake tin and peel away baking paper and serve.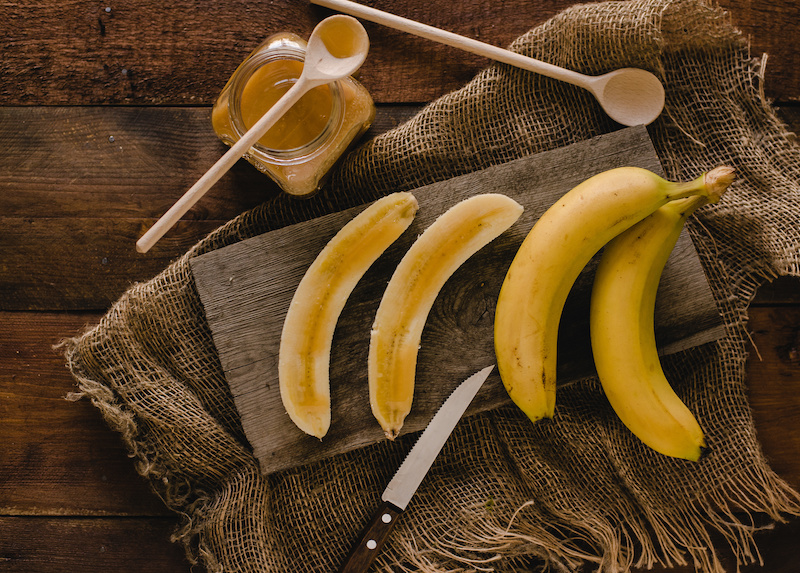 ________________________________________________________