This recipe is one of the tastiest meals you will eat, trust me. It is one of my "go-to" recipes when the day ahead is full of client appointments and where there is little time for dinner preparation.
As an early bird type, just like 40% of you who function best in the morning and not so much at the end of the day, having lunch or dinner slowly cooking away so that the meal is done and dusted at a time of the day when you have little left to give is a blessing. I really dislike cooking dinner when I am tired from a busy workday and my energy levels are much better in the earlier parts of the day, so this recipe not only pleases my taste buds, but it supports my overall happiness and wellbeing.
This recipe is for the time poor amongst you who also really enjoy a healthy, yummy meal with little preparation required.
I cannot tell you how easy this recipe is.  It literally takes me 5 minutes in the morning.  I get my trusted slow cooker out of the cupboard, I use one or two sweet potatoes depending on the size, sliced thinly.  I then add finely sliced celery if you have it as I find celery always improves taste, then plonk 6 or 7 organic chicken thigh fillets on the top making sure you spread them out, so they cover the sweet potato. Now spray thighs with olive oil and then sprinkle garlic powder, onion powder, smoked paprika and pepper on the top.  That is, it.  How simple can a recipe be!  Then turn on low for 7 hours or so as every slow cooker is a little different and there you have it.
I mostly use chicken thighs without the skin or bone. The main reason is that thighs with bone in are difficult to find. Using bone in is incredibly tasty so experiment with this also.
I often enjoy a bowl of this as is or you can add a side serve of steamed vegetables such as green beans or stir through some handfuls of baby spinach.
This is another recipe that I share with all of my time poor career professionals or working families. I also hand it out 24/7 to clients who have chronic fatigue or exhaustion who simply don't have the energy to be cutting up bits and pieces at the end of the day.
As a naturopath, I am passionate about people optimising their energy and protein for breakfast is an important strategy to do this. If you find your energy is not the best, try eating leftovers of this meal for breakfast.
Before I go on to the ingredients for this recipe, I need to remind you that it is important that you buy organic or free range, hormone & antibiotic free chicken meat. When the meat is full of hormones, you digest those hormones, and this may impact your own hormone health. Be wise in these choices.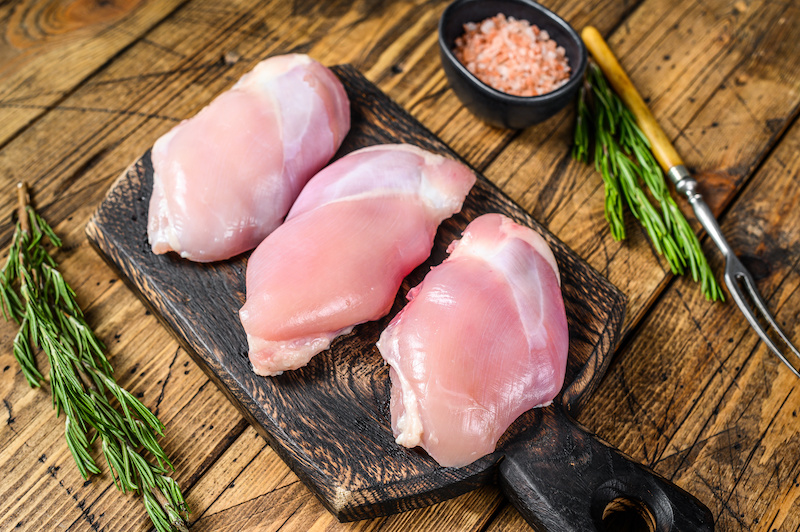 Ingredients
6-7 organic chicken thighs
2 sweet potatoes, 1 cm wide sliced
½ stalk celery finely sliced
¼ cup of organic gluten free chicken stock
Olive oil spray
Sprinkle of smoked paprika (1/2 tsp)
Sprinkle of garlic powder (1/2 tsp)
Sprinkle of onion powder (1/2 tsp)
Sprinkle of pepper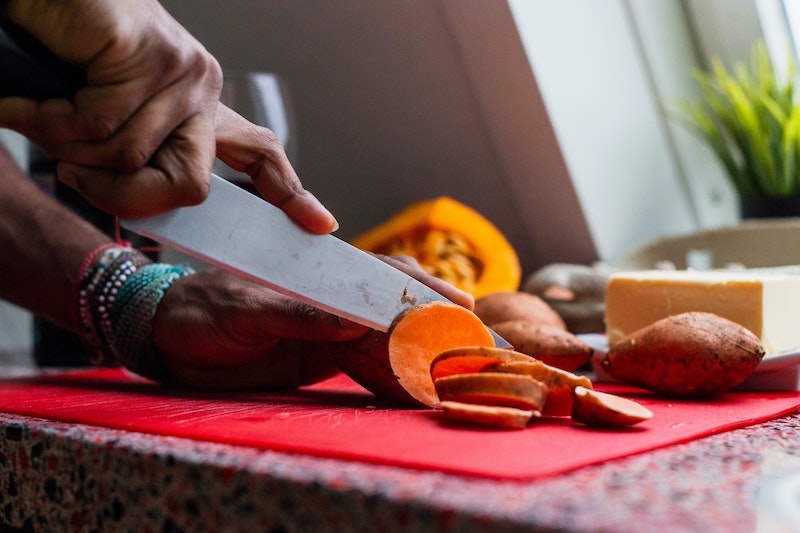 Instructions
Place sweet potato and celery on the bottom of your slow cooker, mixed
Add chicken stock
Place chicken thighs on top
Spray top of chicken thighs with olive oil spray
Now sprinkle pepper, garlic, onion powder and paprika over top of chicken
Cook for 7 hours on low depending on your slow cooker
Serve in a bowl on its own or stir through baby spinach or have extra greens such as steamed broccoli or beans on the side.
Serves 2 with leftovers or a family of 4.
________________________________________________________